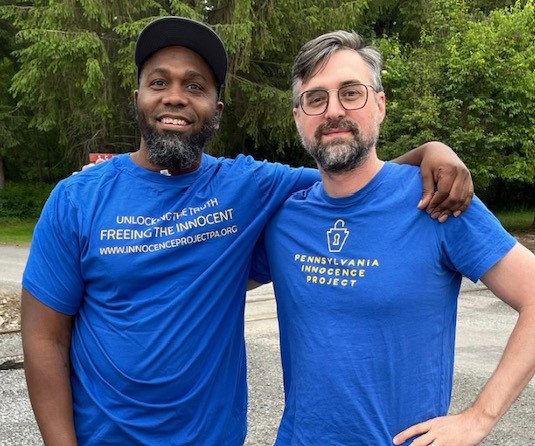 William Johnson -- Free after 18 Years of Wrongful Conviction
On June 8, 2023, William Johnson walked out of the Pennsylvania State Correctional Institution at Rockview and was greeted by his nephews. William's large family, including his mother, sister, brothers, cousins, aunts, uncles, nieces, and nephews, who have stood with him since his ordeal began in 2005, then welcomed him home to Philadelphia. William was also welcomed home by his legal team, including Pennsylvania Innocence Project attorneys Nilam Sanghvi and Ryan Becker and David Rudovsky of Kairys, Rudovsky, Messing, Feinberg & Lin LLP, who is one of the Project's co-founders. David has been working with William, for over a decade, helping him to pursue freedom in the face of repeated denials. William is very much looking forward to spending time with his family and friends, especially his niece Mischa, who William has mentored from afar by writing children's books covering things she and many children have experienced growing up.
How did this happen?
William's Wrongful Arrest and Conviction
In September 2005, William was arrested for the August 2005 murder of Terrence Flomo, an off-duty Philadelphia police officer who was shot and killed while soliciting a prostitute.
In 2007, a jury acquitted William of first-degree murder but could not reach a decision on several lesser-included offenses. William's alleged co-defendant was convicted of third-degree murder at that time. Both men were arrested and tried based on testimony from two "eyewitnesses," Brenda Bowens and Nora Williams, who were in the area at the time and who struggled with active addiction. Initially, they both denied seeing anything when questioned by police. However, both women had active criminal cases of their own and ultimately testified in exchange for incentives from the Commonwealth.

William's initial acquittal was not the end of his ordeal. He was later convicted after a retrial in 2009, at which Bowens and Williams testified again. William's co-defendant also initially gave a statement against William in exchange for a better sentence of his own. By the time of trial, however, William's co-defendant refused to testify, admitting that his statement was a lie that he was using to help himself. Nevertheless, the Commonwealth was allowed to use the written statement against William even though William had no opportunity to question his co-defendant about the statement. On June 3, 2009, the court sentenced William, then 28 years old, to 30-60 years imprisonment.
William's quest to prove his innocence...
After William's conviction, he and his family immediately began to try to clear his name. In 2010, they retained David Rudovksy, who has advocated for William ever since, largely without pay.

David got involved because the constitutional violation was egregious and undeniable. In fact, the Commonwealth and all courts would agree that it was a violation of William's Confrontation Clause rights to introduce his co-defendant's statement without giving William a chance to cross-examine the witness. However, the Commonwealth persuaded Pennsylvania federal courts that they should keep William in prison because Bowens' and Williams' supposedly reliable testimony proved his guilt.

In 2019, the Pennsylvania Innocence Project agreed to assist David and William in the work they had been doing for years and asked the Philadelphia District Attorney's Office to agree to DNA testing of crime scene evidence; William's DNA was not present. The big breakthrough in William's case came in 2020, when Bowens, who had made a remarkable recovery from addiction, admitted that her testimony was a lie and that she had been forced to make the false statements against William because of the pressure put on her by Detectives Augustine and Harris—detectives who had a pattern of coercing false statements. On William's behalf, we filed a petition seeking a new trial based on this new evidence from Bowens. We also continued to investigate.

In the spring of 2022, the Philadelphia District Attorney's Office gave us access to its files from its prosecution of William. There, we made the stunning discovery that Brenda had recanted her statement implicating William in 2006, one year before his first trial, by writing letters to then-District Attorney Lynn Abraham and trial prosecutor Carlos Vega. We also discovered that there were significant issues with Nora Williams' testimony, including evidence that she had received additional, undisclosed financial assistance from the Commonwealth and was suffering from hallucinations at the time of Officer Flomo's murder.

We, with the Commonwealth's agreement, asked the federal courts to revisit their analysis of the constitutional violations in William's case. They did so and vacated William's conviction. The Commonwealth then asked the state court to dismiss William's charges, citing the "egregious" constitutional violations. Its investigation led it to conclude that "Johnson's conviction lacked integrity." The Philadelphia County Court of Common Pleas granted the motion, leading to William's immediate release.
You can read more about William's release here:
See William's case profile on the National Registry of Exonerations here:
You can learn more about misconduct by Philadelphia homicide detectives here:
You can learn more about issues related to official misconduct here: