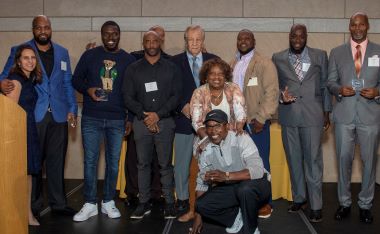 Please join us in one of two locations for the Project's 13th Annual Celebration at 6pm on Thursday, October 6th!
We look forward to gathering at the Free Library of Philadelphia and at Reed Smith in Pittsburgh. Please join us to celebrate our most recently exonerated clients, meet new staff members, and enjoy a drink and appetizers. Together, we are writing the story of justice.

Visit our event page to purchase tickets or to make a gift of sponsorship: https://painnocence.org/annual-celebration-2022

Can't join us in person? Supporters will be able to join us online to view this event from home. New this year, our Friends from Afar sponsorship level recognizes supporters who will not be able to join us at either the Philadelphia or the Pittsburgh event.

Thank you for supporting the Pennsylvania Innocence Project!