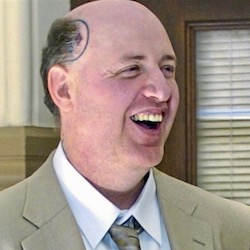 Ever wonder how the people who have been exonerated by the PA Innocence Project are doing?
We interviewed
Daniel Carnevale
who, after 13 years in prison, was exonerated on March 18, just two days after Governor Wolf ordered the shutdown of the Commonwealth due to COVID-19.
Mr. Carnevale says that his transition from incarceration to exoneration was "extra strange, I got out and then wasn't able to go anywhere!"
What got him through?
While in prison, the house that his parents had left to him and his brother had been inhabited by squatters. Mr. Carnevale made repairing the home his first project after his release. He spent every day in the house, for a month, cleaning it out.
"That's really what got me through. I had something to work on. It was something I needed to do."
Since then, he got a job that he loves working in a bakery. Mr. Carnevale learned to bake while working in the kitchens in prison. He is proud to be working at what he says is the best bakery in the state.
Who are the people most Instrumental to his success since coming home from prison? "My brother, and Liz." (Liz Delosa is the Managing Attorney of the Pennsylvania Innocence Project Pittsburgh office). He says, "I don't know what I would do without them.
My brother gave me a place to live when I got out, and Liz helped me file my taxes, get my driver's license, anything she could help me with."
He also adds, "The Pennsylvania Innocence Project got me freedom. They did everything."
What is Mr. Carnevale looking forward to once quarantine is over?
"I'm gonna go sing karaoke!"
he said without missing a beat, "That, and go to a nice restaurant."
We cannot wait for Mr. Carnevale to sing that first karaoke song once it is safe to go out.